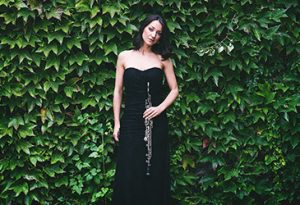 ---
Sanja Romić was born in Novi Sad, Serbia where she started her musical path with professor Ž. Egić. After followed studies in Budapest, at the famous List Ferenc Music Academy. She studied with professors Peter Pongratz and Gabor Dienes. Winning a scholarship, she was a stipendiary of the »Soros Foundation« and has graduated with honours. In the class of professor Stefan Schilli she was studing at the Mozarteum University in Salzburg, next to which she attended masterclasses with renowned oboists such as Han de Vries, L. Lencses, L. Hadady, D. Walter, G. Hunt, E. Abbuhl, and others.
Since 2005 until 2009 she was principal oboist at the opera orchestra »SNG Opera and Balet« Ljubljana, Slovenia. She was teaching at music schools in Jesenice and Ljubljana in Slovenia, lead workshops and masterclasses at the Royal Academy of Music in Dublin, Summer workshops for wind instruments in Tivat, Montenegro, as well as at the Academy of Music in Novi Sad, Serbia.
In the meantime she was collaborating with different European orchestras such as: Erdody chamber orchestra, Salzburger Kammerphilharmonie, Salzburg Chamber Soloists, Bad Reichenhal orchestra, NJO Nederlands, Belgrade Philharmonic orchestra, Vojvodina Philharmonic orchestra, St. George Strings, RTV orchestra Ljubljana, SNG Opera and Ballet Ljubljana, Koss DSS- Society of Slovene composers, Slovene Radio orchestra, Slovene Philharmonic orchestra… She took part in the projects of the chamber orchestra Kremerata Baltica under the guidance of Julian Rahlin in 2011 in Dubrovnik, as well as with the Prague Chamber Orchestra in Belgrade.
She has toured Europe, USA, China, and took part in festivals such as Prague Spring Music Festival, Pau Casals Festival in Spain, Salzburger Festspiele, Mozartwoche in Salzburg, Festival Julian Rachlin and Friends, Dubrovnik Summer Festival, NOMUS Festival in Serbia, Christmas concert series in Novi Sad, Street Musicians Festival in Novi Sad, Ljubljana Festival in Slovenia, Carintischer Sommer Festival in Austria and played under renowned conductors such as Zubin Mehta, Sir Dennis Russel Davies, Mladen Jagušt, Uroš Lajovic, Noam Zur, Cristian Mandeal, Jan Cober, Daniel Raiskin, Howard Griffiths and others. As a soloist, she performed with Erdody chamber orchestra (Hungary), Salzburg Kammerphilharmonie in Germany, Slovene Army Orchestra in Ljubljana, Slovenia, Zagreb Soloists (Croatia), Belgrade Philharmonic Orchestra (Serbia), Vocal studio- choir and orchestra Orfelin (Serbia), Tambour Orchestra Dobreč (Slovenia).
Sanja is actively involved in projects of the »Academia ArsMusicae« chamber orchestra from Klagenfurt and regularly collaborates with a wind quintet »Ventus« from Salzburg, She is memeber of different chamber groups such as: Quintologia Woodwind quintet, Oboe- Harp duo with Paola Baron, ensemble for modern music »Gradiliste«. Sanja's first CD "Melodies of Nations" has been released in 2017 with Irish pianist Fionnuala Moynihan under  Hedone Records. Under Metropolis label CD has been published in Serbia in the same year.
She is founder of the »Kvintart« Cultural Society in Slovenia and memeber of the »ARTempo« Society in Serbia.
As a professional musician, she is continuously researching techniques and ways to reach an easiness of playing and music helath, which resulted in creating her own teaching approach and concept, »Playing With Ease«<.
Sanja is principal oboe of the Belgrade Philharmonic Orchestra. Since 2016 she is also docent for orchestral studies at the Academy of Arts in Novi Sad.
Languages: Serbian, English, Slovenian, Hungarian, German
---